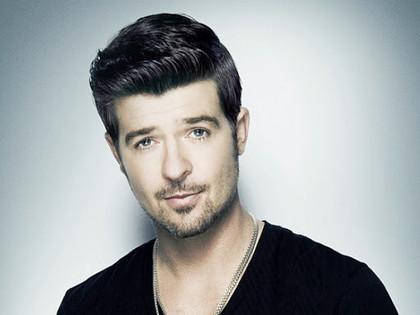 The sincere look of an asshole.
There are some people who are such gossip hounds, they care more about the gossip surrounding a relationship they are in, than the relationship.
And this same pathetic, loser, gauche, "selfie," assholery defines our age, an age defined by editors and producers, not creative artists, an age defined by raunch, not love.
Boomers, who experienced the renaissance of popular music in the 1960s, are no doubt applauding the 7.2 million dollar juror decision against Robin Thicke, 38, and Pharrel Williams, 41, who stole Marvin Gaye's Got To Give It Up for their boring and derivative Blurred Lines, which used the ubiquitous formula of big production sexy video to create a "hit" among the "cool" lemmings.
We are not bitter; we find this all hilariously funny, and we are not saying there should be no cakes and ale, or that no good music is written today, or that assholes only cropped up recently.
Marvin Gaye was shot to death by his preacher father.  Life is a roller coaster of moral ambiguity and it always will be.  We understand.
All musicians and artists steal. The Beatles were derivative.

Sex sells. Not today, but always.
We know. We get it.
But perhaps one of the reasons the 1960s was a renaissance of popular music was that there was a small window of time in which the creative artist was the producer, and called the shots.
And this is a good time to reflect at how fortunate we are to be running a blog where we can write a poem for the ages and publish it. For free. In five minutes.
We are fortunate, because the art and artist and the production of that art—writing, editing, publishing—exits as one, and is never mucked up by middle men.  With Scarriet, product and producer and production exist together—in a God-like way—in one, condensed, hyper-creative, white-light impulse, with no distractions (unless one counts the comments of Diane Roberts Powell.)  It is a creative person's paradise.  And comments—honest and astute ones—are finally great for the truly creative person, as well, and not distractions at all.  Comments are good, finally; they do not belong to 'middle man hell.'
So let us leave love to the lovers, not the rumors.
Let us leave music to the musicians, not the big industry producers.
Let us leave writing to the writers, not the big industry editors.
Thank you.