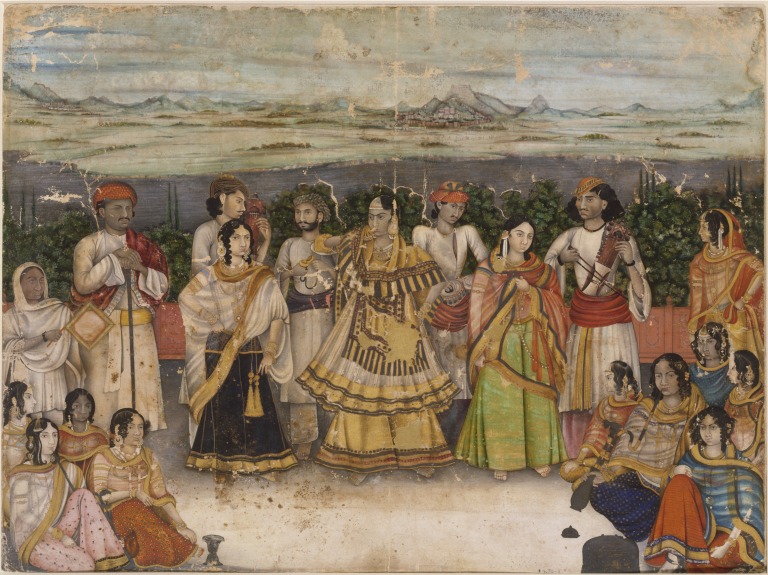 The seven poets under review this month—the March poets from Linda Ashok's The Poetry Mail—"read seven Indian poets a month"—comprise our second installment of a brief critical look at contemporary poets from India. Our second 'look at seven' proved as enjoyable as the first. So let's get right to it:
1. Shobhana Kumar
Two collections of poetry published by Writers Workshop, Kolkata.
Kumar uses big themes in a simple, accessible, organized manner.
Her poem, "My Will," begins with "To you, my daughter, i gift my smile."  She leaves her "dreams" to her "little one," to her parents, her "memories," to her friends, her "warmth," and finally, "And to you, my love, i leave nothing./Nothing save freedom from everything/That binds you to me." She is not always original, but when Kumar invades the house of your heart, your house falls down.
In "What Would You Say, Kafka?" the soul is "put on display." Crowds "look, observe, critique." The poet commands us to "Weep as commerce whores purity." The second half of the poem offers no solace, except as it references a famous writer:
Watch, mute.
As every thought is bought
And sold.
Bought and sold.
Until nothing remains
Save
The eagerness of who
The biggest bidder will be.

Kafka, what would you say,
If you were alive today?
2. Tishani Doshi
Works in fashion, dance, journalism; a prize-winning fiction writer and poet
"The Immigrant's Song" gives us plenty of concrete imagery—the poem's theme is secrecy for the sake of a normal life: "Let us not speak of those days," "Let us not speak of men stolen from their beds at night," "Let us not name our old friends," but the truth arrives metaphorically in the poem's conclusion:
And you might consider telling them
of the sky and the coffee beans,
the small white houses and dusty streets.
You might set your memory afloat
like a paper boat down a river.
You might pray that the paper
whispers your story to the water,
that the water sings it to the trees,
that the trees howl and howl
it to the leaves. If you keep still
and do not speak, you might hear
your whole life fill the world
until the wind is the only word.
*
"your whole life fill the world/until the wind is the only word" is poetry filled up with poetry.
*
"You might pray" is both commanding and helpless.
*
Helpless poet, strong poetry—this is how a poem by Doshi typically goes.  In the opening stanza of "Lament-I" the poet is full of doubt—"I wonder, how to describe…" but the poetry is wonderful:
*
When I see the houses in this city,
the electric gates and uniformed men
employed to guard the riches of the rich,
the gilded columns and gardens,
the boats on water, I wonder,
how to describe my home to you:
the short, mud walls,
the whispering roof, the veranda
on which my whole family
used to spread sheets and sleep.
*
Nature, struggling humanity, rhetoric urgently thrive in her poems.  "Lament-I" concludes:
*
The monsoon finally arrived the year I left…
I think of returning to that life,
but mostly I try to remember
how the world was once.
I want to open my mouth like my son,
and swallow things whole—
feel water filling all the voids,
until I am shaped back into existence.
*
In "Lament-I," she speaks in the voice of a father.  Doshi inhabits her poems omnisciently.  One feels she can do anything—except that she inhabits a tragic world.
3. Semeen Ali
She has published many books of poetry and has earned a Ph.D. 
Poets can do one of two things—they can praise or reject.
To reject is the better choice, because praise either looks like groveling, or demands great skill, since praise, by its very nature, aims high.  Modern poetry, which many think began with Baudelaire, rejects the poison of life; in the modern Poetry of Rejection, the poet is a wary fortress, and to protect herself from toxicity and grief, the modern poet hides from flowers, behind flowers, with poems small, obscure, thorny, defensive.
But every trope contains the seed of its opposite. The following poem is representative of her work; Ali is in a reticent, mysterious mood.
You look at me
Questioningly
eyes fixed on my face
a slight change
to be detected and noted
what do u expect?
A blank face
troubles you
Piece of paper flies past you
diverting your attention
for a minute
That one minute
contains my life
my undisclosed life
A great poem. It begins with rejection—why do you scrutinize me—but ends in praise—a life contained in "one minute," a life "undisclosed;" a mysterious beauty which strangely comes to life.
In an age which is afraid to praise, in a poem which seems to reject, Semeen Ali steps magically into self-praise—the most difficult praise of all. For who can praise themselves without appearing to be a boastful jerk?
When Socrates banned the poets from the Republic, he did so with a caveat—you can stay, poets, if you can praise the deserving gods, and show us with your poetry why you should stay.
The proud poet, immediately struck by the word, "ban," naturally feels no love for intolerant Socrates and his intolerant Republic, and goes on to write any poetry he wants.
The greatest poets, however, were humble enough to rise to Socrates' challenge—poets such as Dante, Shakespeare, Milton, and Shelley, who produced not only praise, but beautiful praise to put it in. These poets live as eternal citizens of the republic of poetry—because they cared not only for poetry, but what the greater society ultimately needs and wants, a peopled society which extends all the way to heaven.
It is not that poets like Dante and Shakespeare are "better people;" nothing like that at all. It is just that the poets who submit to a greater and higher challenge will be greater poets. The "proud poet" who "writes any poetry he wants" emerged triumphantly in the 20th century under the tutelage of Modernist freedoms. In poetry today, praise, humility and obeisance of any kind is no requisite at all. Do we think of Dante or Milton or Shakespeare and Shelley as humble? To be humble was the challenge which they met boldly—this paradox saved them, for the paradoxical is the ticket to everything profound.
Semeen Ali has internalized the Socratic challenge. The praise—self-praise, actually—in her poem, "You look at me" is not gaudy, but marked by the deepest mystical desire it is our pleasure to imagine.
4. Manik Sharma
A journalist from the former summer capital of British India in the Himalayan foothills, Shimla
We have always had a sneaking suspicion that poets who write poems about poems are the most intelligent and the most worth reading. A philosophical self-consciousness always indicates some genius. Sharma's poetry is manic and full of testosterone. He has a journalist's eye for detail, the black humor of Hamlet; his poems eat frenzy and privacy—and everything else.  A poem about a poem is never just about a poem; it breaks things open and heals at the same time—a gesture we never could resist.
"The Perennial Poem" is a weary, ironic, powerful joke of a title, and the poem underneath it shows a poet who knows every poetic button to push, from sad paralysis to jumping glory.  Complex, but not too complex.  Action rescuing over-thinking: "In between fears of idleness, poems run away."  A sibilant saunter reveals a poet easy in his letters—"fears of idleness, poems" ending in "eyes," the sibilant essence ceasing dramatically with "people" and "look up" and "eternity."
In between fears of idleness, poems
run away.

Some return with the sunshine
of last letters

while others are left to remember
people's lives like they would their deaths.

A poem, that finds no respite from
its own becoming,

has to be thrown through the window,
into the streets, where it must

stay lost. But people, being people
still look up. Eternity awaiting in their eyes.
We found a page with three of his poems, all different—a riffing brilliance in all three—and interesting, "Football Player," "Not Everyone Is Lovely," and "Beaten To Death With An ATM Card," and the brief bio telling us that he also enjoys "photography and trekking."  Well of course he does.  Here's a poet with so much energy and talent that poets who have doubts about their own ability will read a poet like this and get slightly depressed.  Sharma's poetry will not get the praise it deserves, but he won't care; he'll just throw himself deeper into journalism, photography, trekking. Yeah we are sure.
5. Ananya Chatterjee
Wife, mother, software programmer, poet
We all know about poems about poems, but what of poems about writing poems—or rather, not being able to write poems?  What do we think of these? And what if the author of the 'not able to write poems poem' is a busy, working mother, who is married to a writer who does have time to write? The poem will be tragic no matter what, won't it?
We must let the following poem speak for itself:
When a woman writes

She tosses and turns

words in her head

while marinating deveined

prawns for dinner .

She garnishes the thoughts

gently in her mind

salivating

involuntarily

like a tongue would

with a lump of sugar

too precious to be

absently gulped.
She then lays the table

Unloads the washer

Irons the creases

In her daughter's shirt

She empties the wastebin..

and packs the rucksacks

her children would carry

to school next day.

All this while..

chanting the lines

with voiceless fervour..

anxious to retain

the sudden poem

that's visited her

on a busy weeknight.

And now she stirs

the moon white froth

in her husband's coffee,

smoking hot..

He too writes

In his olive walled study

His manuscript, now

a publisher's delight.

She tiptoes towards

his fragile quietness,

rests the mug

and slips away

A corner of her eyes

has caught him though.

chewing at the near end

of his royal blue Parker.

She hides

the violence

of shudder and thrill

the sight has swiftly

raised in her soul..

Just for a wee second.. though, not more..

For now her youngest

wails again. She walks to the crib..

Lifts the newborn..

A lullaby is hummed

and

the unquiet is calmed.

The woman too..

unknown to herself

is sleeping now..

snoring softly

beside her girl.

The lines in her head..

are sleeping as well

Stanzas fading out..

like morning mist..

When she awakens later

there's a teardrop nestled

in the shore of her eye..

for the unwritten verse..

For giant thoughts that sunk

in a sea of weeknights.

When a woman writes..

She seldom writes.
What did a poet do to become a poet?  What did a poet do, without our knowledge, to write and publish a poem?  What does a poet conceal from the reader?  What can a royal blue Parker conceal? Is it possible for the truth to be concealed?  What does the poem say?
6. Barnali Ray Shukla
Writer and filmmaker
What do poems which manage to sound like action movies, or best-selling novels do for the poetic sensibility? Shouldn't we be watching this on the big screen? the reader thinks. It makes us wonder—is the genre which resembles another genre better for it, or not?  "Palash and the Padmini," from Anthology of Contemporary Indian Poetry II, pictures for us a certain make of car, wrecked and burning.  That's a movie, right?  Not a poem.
The valley stands bare-shouldered
A hint of mist softens the gnarled carcass
of the Fiat Padmini BRY 1709
and the claiming fire.

The flames leap to the sky
like the blossoms of that tree,
Buteamonosperma
as Palash would have called it,
looking out of the window
bare-shouldered with sinews
like the ash-grey tree

His spoken words in a dead-language
Inflammable punctuated silences
coveted moments so very abundant
in the bliss of our union.

Even without words
Palash lights up the dark.
Flame of the forest
Upright and unyielding, stark.

The ambers now glow
louder than the undone vermilion
of a smudged sunset.

A pair of headlights sweeps the darkness away
The ambulance arrives many hours late
Men in white find a tapering pulse in him
While I hold on to a tiny beating heart, growing inside me.

A surge of pain
now tugs at my womb
The waters break
to douse the fire
and wipe away the salt
from my kohl-tattooed cheeks.

Help now is at arms' length
in the safety of scalpels
but the bite of the metal
can't bury the voices.

Someone whispers, a power claimed him
Another calls it … sabotage
A cynic calls it suicide.

Of course, most speak of destiny.
I wait for those fingerprints
On the bloodied sickle that was found
Right next to the Fiat Padmini.
A fast-paced poem with everything!  Action, excitement, sex, visuals, mystery!  Sabotage! Suicide! And the long name of a colorful tree gets its own line! Verse! Prose! Cars!
A story always unfolds, and the action of that unfolding requires a certain amount of heft and plot to give that unfolding a certain amount of delight.
Dancing isn't running.  Poetry isn't fiction.  Unless it resembles a ballad, like "Belle Dame Sans Merci." This is not a ballad.
Never have we reacted to a poem with a set of iron rules like this one.  O Fiat Padmini with fingerprints, on fire! Pardon our iron rules!
7. Huzaifa Pandit
From Kashmir, he publishes poems, translations, as well as essays.
Pandit is a politically engaged, scholarly, historically-minded poet, with a delicate ear.  From his poem, "Buhu Sings An Elegy for Kashmir:"
Buhu sings sighra aaween sawal yaar
Call out to your dead lovers a little longer.

The beloved weeps in a hollow tongue
Smear condolences with meaning a little longer.

We know the law, and all the statutes
Let the murderer deceive us a little longer.

Amulets hang from black coffins
Untie half-burnt promises a little longer.

We promise to bare heads in mehshar
Command the last sun to beat down a little longer

Spill scented ink, and bury brocade paper
Bear the drought of good poems a little longer.
Indian poets today, like poets the world over, tend to be a shy bunch—highly educated and humble.
It's not considered poetic to come out and say what you mean. Rhyming is no longer considered poetic (a little half-rhyming is okay). Don't use your language like a drum! With every respectable poet getting advanced degrees, a poem first produces a learned topic to immerse itself in, and then the poem, tenuously and slow, begins. The educated sea has swamped the poetic shore.  Every sea bird cry has multiple meanings. The change from Romanticism to Modernism over the last couple of centuries is chiefly the addition of circumspection and a diploma.
Pandit is a wonderful poet—"Bear the drought of good poems a little longer" !!—and the chains of circumspection he wears are not his; they belong to the age.  The repetition of "little longer" is as rousing a refrain as poetry gives these days. We'll take it.
—Scarriet Editors, March 16, 2018