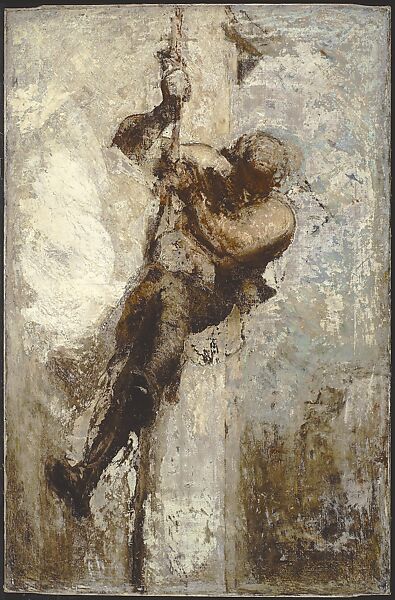 One of William Logan's former students sent me a link to a couple of recent poems by the famous American critic.
Logan is equally ambitious as a poet and a critic, but he's much better known as a critic, or, more accurately, a "reviewer."
William Logan is not a "theorist:" he hasn't made popular any critical dicta.
And, who knows? this might even make him a better reviewer.  He keeps his eye on the ball (the subject of his review) and is never distracted by pet theories.
In fact, he's largely ineffective when he wanders into theory; he's like Camille Paglia, another wolf who turns lamb when speaking of poetry in the abstract, and this would include writing about poets safely dead. Paglia and Logan have fans because they pull no punches with their contemporaries.
You can argue with their opinions, but Letters needs honest criticism even more than trades need inspectors; a building may stand up without a building inspector; a poem without a critic doesn't really exist. That critic "over there" who needs to tell you how to read a poem is you.  Criticism builds the building. Poetry only admires it.
Logan as a reviewer is rare, but he shouldn't be.
As a critic, Logan doesn't make friends—which is how it should be; the conscious decision not to be friendly as a critic is why he is good—for otherwise a critic cannot be good.  So when the New York Times calls Logan "Poetry's Hanging Judge," a "slasher, a burner, a brawler," this is just silly, like a child's fear of the dark.
Logan strolls into the poetry which he is reviewing with no agenda whatsoever; he's not even asking that the poem be well-built. When it comes to criticism, "burner" or not, Logan is all Henry James, who said, when it comes to art and its criticism, one should just be intelligent—there are no rules.  This is not bad advice. Let the mind and eye be free.
These are the two principles of Logan's reviewing:
1. no friends
2. no rules.
If this is a "hanging judge," so be it.  It's why Logan is the best critic around.
Actually, the best reviewer around.  Logan is not a critic at all.
Logan's reviewing has two principles.  His criticism has none.
When those who are honest and controversial like what everybody else likes, the air goes out of the balloon.  Break, Blow, Burn: Camille Paglia Reads Forty Three of the World's Best Poems is perhaps the most boring book ever written.  A close second is Logan's Dickinson's Nerves, Frost's Woods: Poetry In the Shadow of the Past.
In Dickinson's Nerves, Logan adds historical facts to a poem—whether they belong to the poem, or not.  Good poems (especially lyric poems) don't need added historical facts, and that's why they are good.  Successful poems are the history which Logan goes somewhere else to find.
The New Critics, who err by being too narrow, at least are in the right part of town.  The critic William Logan is like a man looking for a party in the wrong city—not that he doesn't find interesting things in that other city.  He has a wide-ranging mind.  That's why he's a good reviewer.
Logan, when reacting to poems as a reviewer, is a champ—:with the poems of a living author in front of him, he feels no obligation to find historical touchstones in a worshipful sort of way, and with no theoretical axes to grind, obeying the advice of Henry James—obeying no principle whatsoever—he simply allows his intelligence to tell us what it sees.
As far as Logan's two poems in Blackbird: an online journal of literature and the arts, they are both sound, full of references, and rather dull.
Both describe painting, in one case, a painting, in the other, a landscape, which may be a painting. It is Logan's habit as a poet to use poetry as a means to be scholarly towards a scholarly artifact.  He's not being attentive so much as attentively bookish.  And the poems are certainly not how people talk.
My advice to Logan: Write from your memory and your heart.  Avoid "subjects."
I really believe Logan tries too hard to sound high-brow and thoughtful. He's too fastidious. We could look at the painting or the landscape he describes and enjoy in a moment, ourselves, what he patiently explains to us, standing in the way. Poetry is speech. It is not describing a painting or a meadow or a street. He should listen to G.E. Lessing. Poetry is not painting. Nor is poetry a series of learned references.
There needs to be more feeling. Logan should read Holderlin.
He attends to the important things—he finds a theme with a physical equivalent in the real world, and the parts of the poem contribute, in an ordered and thoughtful way, to that theme.  And it's all done with a learned air.

But it's finally the trivial things, so trivial as to escape scrutiny, which make a poem successful.
This is why no one can will a poem to be good, and why a poem written in five years will not be better than a poem written in five minutes.
Because reviews can't wait, Logan, by necessity, writes his reviews relatively quickly. Which allows him to skip most of his learning and get right to the doing. The speed, and the irritation at having to be speedy, no doubt contributes to the wit we see in his reviews.
His poems, however, are vacations from the deadlines of reviewing; one senses he writes his poems in the midst of vacations; he spends an entire day in a museum, and almost a whole afternoon in front of a painting. Daumier's Man on a Rope, perhaps.
And then, five years later, a poem.
Yet all the five years did was hide the true poem, which, after five minutes, was right there:
Above the nothing that is nothing,
Hanging between earth and heaven,
Arms taut with the sum of his own gravity,
One foot steadied against the building,
Braced against the fall,
Burglar or acrobat,
Hung between the idea
And execution, the nowhere
And the nowhere.
~~~
Daumier, Man on a Rope
Above the nothing that is nothing,
he dangles in forethought,
not afterthought, like Mohammed's coffin
hanging between earth
and heaven, face darkened
by fear or apprehension,
or merely paint, arms taut with the sum
of his own gravity,
one foot steadied against the building,
braced against the fall
that never comes, though whether
burglar, or acrobat,
or just a man on a rope is never revealed.
Like Bede's sparrow,
like Schrödinger's cat, like the artist
hung between the idea
and execution, the man
is lost in the nowhere
that is life and the nowhere not.
—William Logan