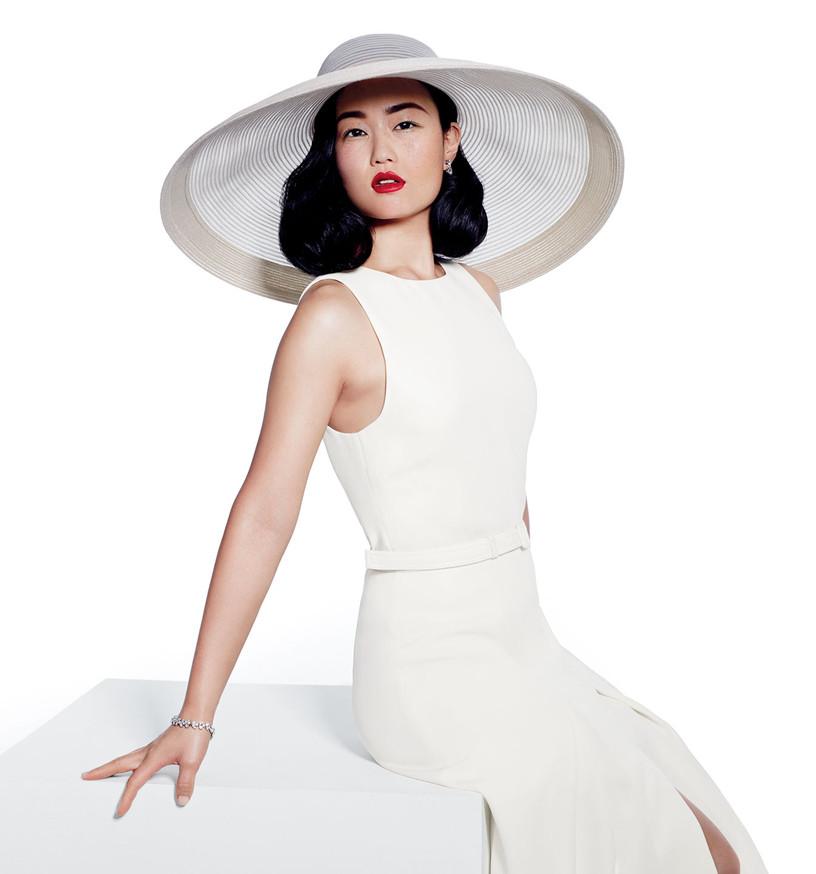 In the "Vanities" page of December's issue, Diana Bang, a 33 year old unknown actress, is photographed in a white Gucci dress—she's appearing in a new film with Seth Rogen and James Franco.
Also "Vanities" features this: "What your preferred greeting style says about you: Handshake, Hug, Kiss On the Cheek, Kiss on the Lips, Biting." Of course no one prefers to do these things: custom is most of it, and secondly, it matters with whom, but it's a whole lot more interesting if the focus—the essence of every Buzzfeed quiz—is on what "you" prefer. The "noted examples" add a touch of history: Handshake: Grant and Lee. Biting: Hughes and Plath. You at the center, with the famous all around. Intoxicating.
You are either famous, or contemplating the famous: what we know is not for any purpose; our knowledge merely shoots upward, like a rocket, into the atmosphere of fame and greatness, to never return. Or, if it does, it falls in our lap as a Gucci handbag.
"Fanfair and Fairground:" promotes envy in miniature: a half a dozen pages filled with holiday gift ideas in tiny photos (with prices) and nothing too small and inexpensive or too large and expensive is excluded: things the classy rich give to one another in a swirl of cigarette smoke and pine needle scent while sitting on big pillows on the veranda: oh we don't know, we can hardly imagine it, we are not rich; but why should we indulge in this mockery and this envy? It is not fitting. These things are clever and beautiful; we should be pleased that the world has the time and knowledge to make these things; and the middle class can afford some of this.
It is difficult to fight off envy as we eye gift after gift we will never give or receive; it makes us ill to think of how much we will never have, of how many lovely things inhabit the world, of how impossible it is to grasp all that is good; it is why, we assume, that people reading these types of magazines always skim them, turning pages quickly and impatiently; to stop and truly examine, we would be overwhelmed. We would be stung by how really meager our existence is. Vanity Fair, thou hast shown me for who I am; thou hast blinded me; I am brought to my knees. Return me to my plain existence; don't make me buy things I cannot afford. Don't make me vain in vain.
New books!
Of such interest!
Tempting us with a title and one descriptive line! (Book review not needed!)
Biographies of the rich and famous!
Who are they, really?
Find out!
Find out!
Coffee table books!
This:
"David Rockwell revels in the emotional side of architecture…"
Oh God!
Stop!
The "emotional side of architecture!"
"…architecture, in the idea that buildings and parks, restaurants and hotels, museums and theaters, exist to stimulate our imaginations and, in the end, to make us happy. In What If...? The Architecture and Design of David Rockwell (Metropolis), he shows us how architecture—whether applied to a JetBlue terminal or a Nobu—is not so different from a stage set: it's the special effects that make it work. Rockwell—whose firm is celebrating its 30th anniversary—is so good that he makes you wonder why everyone doesn't admit that the secret ingredient of design is fantasy."
Fantasy!
Why didn't we think of that!
"Fanfair: Hot Type" gives way to "Fanfair: Private Lives," even more horrifying:
"Growing up surrounded by beauty—between a farm in Scotland and Christmases with their grandparents (the previous Duke of Devonshire and his wife, 'Debo') at the 297-room family seat, Chatsworth—sisters Isabel and Stella Tennant have turned to gilding the objects around them."
Well, of course they have!
"In 2012, supermodel Stella happened to notice some sample panels with gilded lines on weathered mahogany propped up in her sister's kitchen and wanted to make them into a lamp. 'Before I knew it, she'd had oak bases made by a local carpenter,' recalls Isabel, who studied decorative arts before becoming a gilder."
Are you getting this? "Supermodel." "Weathered mahogany." "Before I knew it." People of action. People who do things. Supermodels and weathered mahogany. Kill me. Now.
On the same page is "Heaven in a Handbag:" "The design came from Belgian Shoes, says Hayden Lasher of her eponymous handbag line. Like the classic slippers—brought to the States by her great-great-uncle Henri Bendel in 1956—Lasher's bags are handmade in one style, offered in different colors, and embellished with the iconic Belgian bow."
Diminished by a "Belgian bow." Why am I living? Why do I go on living? Why?
"Fanfair: Hot Gifts:" "From haute roller skates [$1,200] and electric cars [$28,000] to African-made bags and Darth Vader toasters, an eclectic array of gifts for everyone on your holiday list…"
I'm in hell! A hell of gifts!
"Fairground" celebrates "the inaugural Vanity Fair New Establishment Summit, sponsored by Discovery Communications and presented in association with the Aspen Institute." There is a full page photo: "Elon Musk arrived in his Model S Tesla before speaking…at the Yerba Buena Center for the Arts, in San Francisco, where the packed house included media moguls…and a myriad of innovative thinkers…" And pictures follow of famous and old smart and beautiful & young smart people.
We are mad with envy. This is worse than perfect pictures of still-young Angelina Jolie—her stare on the cover which says "you will never be as happy as me,"—who has no boobs.
It's these royal farms in Scotland, these gift ideas, these gatherings of the innovative and the famous which finally brings us to our knees—we are made even more miserable because it makes us miserable—we accuse ourselves in an endless downward spiral of ineptitude and guilt because of the endless gilders and gifts and supermodels and dukes.
We continue to scan the ads:
Banana Republic: b&w photos of sweaters, rough wood.
Van Cleef & Arpels: flower diamond & ruby earrings. Why show off the earlobe? We don't understand earrings. We just don't.
Feria: L'Oreal Paris: hair color—"Red To Dye For"
Ralph Lauren: Polo Red. Scent needs to be subtle. Red? No. 
Those who wear too much cologne or perfume are more offensive than smokers. There are laws against smoking.
Giorgio Armani: A large pair of sunglasses which makes a woman look like an insect. Congratulations.
Longines: Kate Winslet with horse and watch: "Elegance is an attitude" It helps the attitude to have makeup crew and horse. Nice to know that Kate can tell you what time it is.
Lancôme: La vie est belle "The Fragrance of Happiness." Julia Roberts and her famous smile, looking over her shoulder. That tiny mole underneath her eye! Like an old friend.
There are no breasts in the entire magazine. Women are either flat, or the models' breasts are concealed. What does this mean?  Is it that Modern Life is anti-woman? Or is 'no boobs' considered dignified and respectable? Is the 'no boobs' position pro-woman?
All those famous Modern Artists (Warhol, Johns, etc) in the 1982 Odeon restaurant photo: males. The updated photo in VF with women: not one woman is famous. Is it that women love beauty and generosity—therefore they will never dominate the clever, scheming, severe line, hard-edge, intellectualized world of Modern (conceptual) art?
Next to a Cartier ad, Graydon Carter, in his "Editor's Letter," compares Jeff Bezos of Amazon to the mean Mr. Potter in Capra's It's A Wonderful Life.
A funny interview with Amy Poehler at the end of the magazine: "What is the trait you most deplore in others? People who can't read my mind." Oh, if only we could.
In its "The 60 Minutes/Vanity Fair Poll," VF reveals that Democrats believe "someone who is greedy" is "more likely to be successful," while Republicans believe "someone who is selfless" is "more likely to be successful." Honor reigns.
A spotlight on the actor playing Martin Luther King Jr. in Hollywood's Selma reveals he is British! Hip hip hurray!
"The Publishing Dispute That Absolutely No One Is Talking About" is about an English magazine for old people who Americans have never heard of—a funny and sophisticated one that embraces the idea that the end is near, instead of sugar-coating it (as Americans tend to do).
"The World's Most Driven Uber Customer" sizes up Uber, the phone app for wheels (when a taxi can't be found) which is worth millions—and one thinks, why didn't I think of that and how did these guys make millions so quickly with such an obvious idea, starting out with nearly nothing—but is never quite explained: how the rich get rich remaining elusive to the rest of us, even though it is made to look easy (it is about who you know, isn't it?) in the insouciant style of Vanity Fair.