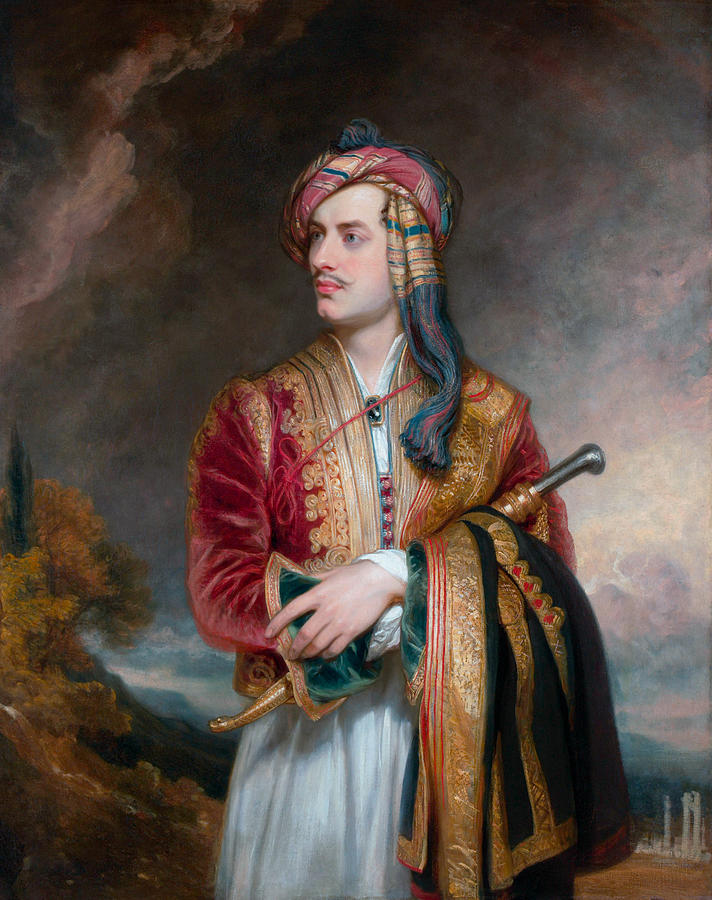 George Byron in a pensive mood, before taking part in the opening day Scarriet baseball ceremonies.
Happy Easter!
Scarriet has expanded and restructured its baseball league!!
Gone the 2 leagues of 20 teams led by 20 American poets—Eliot, Pound, Frost, Poe, Williams, Stevens, Moore, Dickinson, Millay, Jorie Graham, Ginsberg, Ransom, Cummings, Whittier, Whitman, Bryant, Longfellow, James Lowell, Ashbery, and Emerson.
Now poets like Emerson, Eliot and Poe can be player/managers—to contribute to their teams both at the plate and in the field.
The field is more international—Scarriet Poetry Baseball is now 25 historical teams from all over the world.
~~~~~~~~~~~~~~
The gods and muses must be pleased with our ten years of Poetry March Madness and our first Poetry Baseball season, where poetry is worshiped through time and space in a manner which no one has ever seen.
Fortunately one of the Muses has always been here to help us, Marla Muse.
Marla Muse: They are indeed pleased, Tom!
You have spoken to the other muses who live in other realms, in those shadowy timeless realms where time is one and poetry lights up suns distantly—
Marla Muse: Yes, and they approve! The stars in the heavens love you more than you know… I would rather die than see poetry die.
This baseball season is different. Mysterious and wealthy owners throughout time and space are bidding, some in secret, for players to fill their rosters.
In the Great Emperor League, we have the Broadcasters. Their motto is "Pleased to meet you, hope you guess my name" and they feature Mick Jagger, Jim Morrison, Gregory Corso, Anne Sexton, Bobby Burns, Omar Khayyam, Rilke, Coleridge, Leopardi, Anacreon, Sappho, and Ingrid Jonker.  They are rumored to be owned and funded by a business group led by Federico Fellini, and their ballpark is in Rimini, Italy.
These ballclubs are timeless, in every sense of the word (these teams compete, with actual statistics, where chance unfolds out of space, out of time) but real money, blood money, purchases these players.  We know JP Morgan, for instance, wanted Shakespeare and bid heavily to get him.
The Pistols, who play in Berlin, are said to be associated with Eva Braun, but this cannot be confirmed; one older muse claims to have overheard Eva say, "I take care of this. Adolf is too busy talking to bankers and architects. He doesn't have time for poetry." But honestly we cannot say who owns the Pistols.

Nahum Tate, owner of the Laureates, for those who do not know, re-wrote a popular King Lear with a happy ending (after Shakespeare's death when, for a long period, the Bard was out of fashion,) and was chosen as Poet Laureate of England in 1692. 
Dick Wolf produces Law & Order on television, and appears to have a controlling interest in the Laws, playing out of Santa Barbara.  He's got Aristotle, Lord Bacon, and Horace.

John Rockefeller opened his purse to get Walt Whitman, and he thinks that will be enough to win a championship.  We don't know.  We do know baseball is all about pitching.  All you need is a few good arms which dominate, defense behind them, and some clubhouse chemistry, and not too many injuries. It's a crap shoot, in many ways, and this is why Rockefeller grumbled he wasn't going to waste money on superstars who hit home runs and have a high batting average. He's probably right.  A team that wins 2-1 is better than a team that wins 7-4, by pure mathematics, even though the former score wins by 1 and the latter by 3 runs. It's the ratio that counts.  2-1 = 2. 7-4 = 1.7  This simple reason is why defense wins in every sport. Rockefeller is using this formula, and the oil baron was also advised that you can't buy a pennant—throwing money at sluggers doesn't do any good; it's 90% pitching and luck. Just put a a poet with critical depth on the hill and three good versifiers in the infield and sit back.
Some of the rosters might have some question marks, but that's what happens in a free market.  It's an historical fact that Longfellow did meet Queen Victoria in person. But no one expected him to play for her!
And W.H. Auden just "wanted to play for Napoleon, I don't why."
Marla Muse: I can't wait for the season to begin!  Spring is in the air! Around Rome, and in those still fairer isles… Let's forget about plagues and the starvation for awhile. Songs are going to sing.
Here then, are the Teams, their Mottoes, and the preliminary rosters—they are always changing (there's a big minor leagues!)

~~~~~~
THE GREAT EMPEROR LEAGUE
Federico Fellini, Rimini  The Broadcasters [Pleased to meet you, hope you guess my name]
-Mick Jagger, Sappho, Gregory Corso, Charles Bukowski, Paul Valery, Anne Sexton, Omar Khayyam, Robert Burns, Ben Jonson, Coleridge, Jim Morrison, Edmund Waller, Nabokov, Rilke, Giacomo Leopardi, Anacreon, Ingrid Jonker, Swinburne
Napoleon, Corsica The Codes [Let the more loving one be me]
-W.H. Auden, Homer, Hesiod, Racine, John Peale Bishop, Edmund Wilson, Mina Loy, William Logan, Irving Layton, Villon, Jean-Baptiste Tati-Loutard, Wole Soyinka, Jules Laforgue, Derek Walcott, Callimachus, Cicero, Marcus Aurelius
King Philip II, Madrid The Crusaders [If in my thought I have magnified the Father above the Son, let Him have no mercy on me]
-Saint Ephrem, G.K. Chesterton, Tolkien, Thomas Aquinas, Hilaire Beloc, John Paul II, Saint Theresa of Lisieux, Joyce Kilmer, Saint John of the Cross, Mary Angela Douglas, Anne Bradstreet, Phillis Wheatley, Countee Cullen, Gerard Manley Hopkins, Aeschulus
Charles X, Paris  The Goths [Every great enterprise takes its first step in faith]
-A.W. Schlegel, Baudelaire, Goethe, Oscar Wilde, Walter Pater, Madame de Stael, Chateaubriand, Sophocles, George Herbert, Heinrich Heine, Robert Herrick, Clement Marot, Ronsard, Saint-Beuve, Catulus, Thomas Gray, John Clare, Thomas Lovell Beddoes, Theophile Gautier
Pope Julius II, Rome  The Ceilings [They also serve who only stand and wait]
-Milton, Michelangelo, William Blake, Robert Lowell, Petrarch, G.E. Lessing, John Dryden, Klopstock, GE Horne, Ferdowsi, Ariosto, Luis de Camoens, Swift, Tulsidas, Edmund Spenser, Kwesi Brew, Pindar, Euripides
~~~~~
THE GLORIOUS LEAGUE
Eva Braun, Berlin The Pistols [A life subdued to its instrument]
-Ted Hughes, Gertrude Stein, T.S. Eliot, Ezra Pound, W.B. Yeats, Ford Madox Ford, James Joyce, Hugh Kenner, Wyndham Lewis, DH Lawrence, Alistair Crowley, George Santayana, F.T. Marinetti, Giacomo Balla, Richard Wagner, Jung
Queen Victoria, London The Carriages [Theirs but to do and die]
-Lord Tennyson, Elizabeth Barrett, Robert Browning, Longfellow, Philip Larkin, Sylvia Plath, Hazlitt, Paul McCartney, Geoffrey Hill, Henry James, Andrew Marvel, John Suckling, Virginia Woolf, Theocritus
Lorenzo de' Medici, Florence The Banners [The One remains, the many change and pass]
-Percy Shelley, Dante, William Rossetti, Christina Rossetti, DG Rossetti, John Keats, Marlowe, Guido Cavalcanti, Glyn Maxwell, Ben Mazer, Friedrich Schiller, Thomas Moore, Philodemus, Virgil, Stefan George, Boccaccio, Leonardo da Vinci
P.M. Lord John Russell, 1st Earl Russell, Devon The Sun [A good indignation brings out all one's powers]
-Emerson, Horace Walpole, Thomas Carlyle, Thoreau, Wordsworth, Rudyard Kipling, Aldous Huxley, Matthew Arnold, Sir John Davies, Margaret Fuller, Robert Southey, Marilyn Chin, Joy Harjo, Basil Bunting, Marjorie Oludhe Macgoye
Nahum Tate, Dublin  The Laureates [Luck is bestowed even on those who don't have hands]
-Ghalib, Samuel Johnson, Charles Dickens, Peacock, Leigh Hunt, Victor Hugo, Alexandre Dumas, Sara Teasdale, Pasternak, Louis Simpson, Dana Gioia, Oliver Goldsmith, Edmund Burke, Aphra Behn, Rod McKuen, JK Rowling
~~~~~
THE SECRET SOCIETY LEAGUE
Harvey Weinstein, Westport CT The Actors [I am no hackney for your rod]
-John Skelton, Langston Hughes, Henry Ward Beecher, Chaucer, Amiri Baraka, Lord Byron, Hafiz, Thomas Nashe, Marilyn Hacker, Petronius, Gwendolyn Brooks, Jim Carroll, Lucille Clifton, Etheridge Knight, Audre Lorde, Jimmy Page, Andre Gide
David Lynch, Alexandria VA  The Strangers [So still is day, it seems like night profound]
-Jones Very, Alexander Pope, William Burroughs, Rimbaud, Verlaine, Robert Graves, Laura Riding, Weldon Kees, Berryman, Mary Shelley, Rabelais, Charles Simic, Eric Satie, Labid, Roethke, Camille Paglia, HP Lovecraft, Nietzsche, Samuel Beckett
P.T. Barnum, Fairfield CT  The Animals [Majesty and love are incompatible]
-Ovid, Gerald Stern, Robinson Jeffers, Lawrence Ferlinghetti, Seamus Heaney, Jack Spicer, Kay Ryan, Leslie Scalapino, Mary Oliver, W S Merwin, Melville, Camille Saint Saens, Edward Lear, Marianne Moore, Wallace Stevens, Gerard de Nerval, Robert Bly
J.P. Morgan, Madison Avenue  The War [The fire-eyed maid of smoky war all hot and bleeding will we offer them]
-Shakespeare, Louis Untermeyer, Apollinaire, T.E. Hulme, Richard Aldington, Rupert Brooke, Sir Walter Scott, Philip Sidney, James Dickey, Harry Crosby, Keith Douglas, Wilfred Owen, Howard Nemerov, Stephen Crane, Erich Remarque, Alan Seeger
Ben Franklin  Philadelphia  The Secrets [We come in the age's most uncertain hour and sing an American tune]
-Paul Simon, Paul Laurence Dunbar, Edgar Poe, Emily Dickinson, Robert Frost, F. Scott Key, Cole Porter, Plato, Hawthorne, Pushkin, Walter Raleigh, Moliere, William Cullen Bryant, Amy Lowell, Emma Lazarus, Carl Sandburg, Pete Seeger, Natasha Trethewey, Amelia Welby, Woody Guthrie, JD Salinger, John Prine, Kanye West, Stephen Cole, Bob Tonucci
~~~~~
THE PEOPLE'S LEAGUE
Sajyajit Ray, Calcutta The Cobras [Is it true that your love traveled alone through ages and worlds in search of me?]
-Tagore, Allen Ginsberg, Jeet Thayil, Rupi Kaur, Anand Thakore, Dhoomil, G.M. Muktibodh, Rumi, A.K. Ramanujan, Samar Sen, Daipayan Nair, R. Meenakshi, Faiz Ahmad Faiz, Hermann Hesse, Persius, George Harrison, Adil Jussawalla, Tishani Doshi, Sushmita Gupta, Vikram Seth
Kurosawa,  Tokyo  The Mist [In Kyoto, hearing the cuckoo, I long for Kyoto]
-Basho, Hilda Doolittle, Robert Duncan, Gary Snyder, Philip Whalen, D.T. Suzuki, Yone Noguchi, Yoko Ono, John Lennon, Kobayashi Issa, Lady Izumi Shikibu, Cid Corman, Sadakichi Hartmann, Heraclitus, Richard Brautigan
Chairman Mao, Beijing  The Waves [Death gives separation repose. Without death, grief only sharpens]
-Tu Fu, Lucretius, Karl Marx, Voltaire, Rousseau, Guy Burgess, Amiri Baraka, Brecht, Neruda, Li Po, Li He, Bai Juyi, Lu Xun, Guo Moruo, Ho Chi-Fang, Yen Chen, Billie Holiday, Khomieni, Lu Ji , Wang Wei, Lao Tzu, Gary B. Fitzgerald, Wendell Berry
Dick Wolf, Santa Barbara  The Laws [In poetry everything is clear and definite]
-Ajip Rosidi, Aristotle, John Donne, Donald Hall, Jane Kenyon, Donald Justice, Anna Akhmatova, Thomas Hardy, Thomas Campion, Frederick Seidel, Antonio Machado, Mark Van Doren, David Lehman, Lord Bacon, Martial, ML Rosenthal, Horace, Gottfried Burger, Yvor Winters
Merv Griffin, Los Angeles  The Gamers  [He thought he saw an elephant that practiced on a fife]
-Lewis Carroll, James Tate, E.E. Cummings, Tony Hoagland, Ogden Nash, Billy Collins, Eugene Field, W.S. Gilbert, Thomas Hood, Noel Coward, X.J. Kennedy, John Betjeman, Wendy Cope, Tristan Tzara, Heather McHugh, Charles Bernstein, Jack Spicer, James Whitcomb Riley, Joe Green, Menander, Morgenstern
~~~~~
THE MODERN LEAGUE
Pamela Harriman, Arden NY The Dreamers [not the earth, the sea, none of it was enough for her, without me]
-Sharon Olds, Edna Millay, George Dillon, Floyd Dell, Dorothy Parker, Stanley Burnshaw, Richard Lovelace, Stevie Smith, Louis MacNeice, Louise Bogan, Louise Gluck, Jack Gilbert, Marge Piercy, Carolyn Forche, Muriel Rukeyser, Jean Valentine, May Swenson, Propertius, Anais Nin, Simone de Beauvoir
Andy Warhol, East 47th St The Printers [the eye, seeking to sink, is rebuffed by a much-worked dullness, the patina of a rag, that oily Vulcan uses, wiping up.]
-John Updike, Frank O'Hara, John Ashbery, Kenneth Koch, James Schuyler, James Merrill, Hart Crane, Lorca, Thom Gunn, Stephen Burt, Frank Bidart, Mark Rothko, Marjorie Perloff, John Quinn, Duchamp, Aristophanes, Christopher Isherwood, Andre Breton, Lou Reed, John Cage
John D. Rockefeller, Chicago The Buyers [Have you no thought, O dreamer, that it may be all maya, illusion?]
-Walt Whitman, Alcaeus, Edgar Lee Masters, Kenneth Rexroth, Elizabeth Bishop, Robert Lowell, Helen Vendler, Jorie Graham, Franz Wright, Mark Twain, Robert Penn Warren, Paul Engle, William Alexander Percy, Richard Hugo, Carl Philips, Harriet Monroe, Duke Ellington, Dylan Thomas, Jack Kerouac, Sigmund Freud
A. C. Barnes, Philadelphia  The Crash [But for some futile things unsaid I should say all is done for us]
-Allen Tate, John Gould Fletcher, John Crowe Ransom, John Dewey, Cleanth Brooks, Donald Davidson, Merrill Moore, Walter Pater, Wittgenstein, Andrew Nelson Lytle, Archilochus, Anne Waldman, Stanley Kunitz, Jackson Pollock, WC Williams, Luigi Russolo, Stephen Spender, Richard Howard
Steven Spielberg, Phoenix AZ  The Universe [I know why the caged bird sings]
-Maya Angelou, Harriet Beecher Stowe, Bob Dylan, Margaret Atwood, Paul Celan, Czeslaw Milosz, Delmore Schwartz, Randall Jarrell, Anthony Hecht, Galway Kinnell, Philip Levine, Larry Levis, Claudia Rankine, Harold Bloom, Alice Walker, James Wright, Juvenal, Chuck Berry, Stephen King
~~~~~~~~~~~~~~~~~~~~~~~~~~~~~~~~~~~~~~~~~~~~~~~~~~~~~~~~~~~~~~~~~~~~~~~~~~~~~~~~~~~~~~~~~~~~