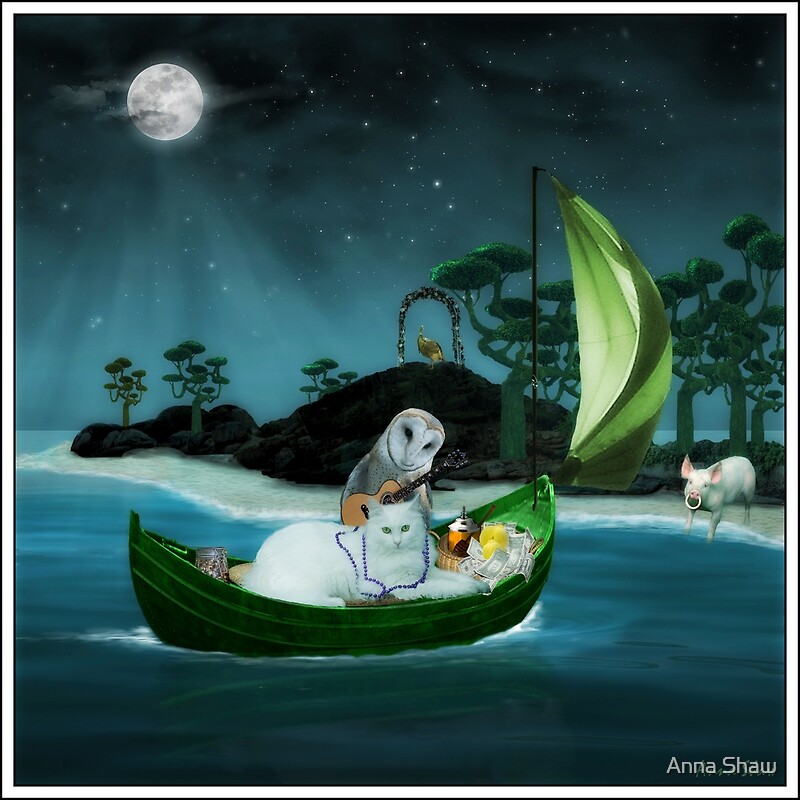 Admit it.  You love good sentimental poetry.
"The Owl and the Pussycat" by Edward Lear is sentimental and lovely.
But what of Lear's opponent in the first round?
Shelley's political poem, "England 1819" may not be considered "sentimental."
Let's consider if it is, since this tournament is as much about 'what is sentimental poetry?' as it is about sentimental poetry.
"The Owl and the Pussycat."  Surely this is sentimental, if anything is.
The first stanza is as follows:
The Owl and the Pussy-cat went to sea
In a beautiful pea-green boat,
They took some honey, and plenty of money,
Wrapped up in a five pound note.
The Owl looked up to the stars above,
And sang to a small guitar,
"O lovely Pussy! O Pussy, my love,
What a beautiful Pussy you are,
You are,
You are!
What a beautiful Pussy you are!"
The poem is extremely musical—but music, as we all know, is mathematical ("runcible spoon" in the final stanza is verse-math genius)—is mathematics sentimental?
The poem is also a fantasy—it depicts the unreal. We all know feelings are strongest when they pertain to real life. Is the unreal sentimental?
The poem aspires to beauty–and all beauty has something cold about it.
And finally, Lear's poem also has a certain archness; a whiff of the comic.  Is comedy sentimental?
So is "The Owl and the Pussy-cat" really as sentimental as all that?
If this poem calms and amuses us, and does not evoke strong feelings, perhaps it is not sentimental.  Unless we take the song of the owl seriously.
Shelley's poem, on the other hand, is meant to generate strong feelings—doesn't revolutionary fervor, the righting of great wrongs, require strong feelings?
An old, mad, blind, despised, and dying King;

Princes, the dregs of their dull race, who flow

Through public scorn,—mud from a muddy spring;

Rulers who neither see nor feel nor know,

But leechlike to their fainting country cling

Till they drop, blind in blood, without a blow.

A people starved and stabbed in th' untilled field;

An army, whom liberticide and prey

Makes as a two-edged sword to all who wield;

Golden and sanguine laws which tempt and slay;

Religion Christless, Godless—a book sealed;

A senate, Time's worst statute, unrepealed—

Are graves from which a glorious Phantom may

Burst, to illumine our tempestuous day.
Which poem has greater feeling—the child-like poem by Lear, or the grown-up poem by Shelley?
Shelley writes of his own government—its brutality, its genocidal horror, its wrong, all very real to Shelley, the poet.  Had the poem been published while he lived, Shelley would have been thrown into prison.
Lear sings of an owl singing a love song to a cat on a boat under the moon.
Those, today, finding Shelley's poem implausible and unfair, might label it "sentimental."
Those not amused by Lear's poem would probably call it the same—"sentimental."
In the first instance, "sentimental" would mean "untrue."
In the second instance, "sentimental" would mean "trivial."
No one would call Shelley's poem "trivial," and no one would feel the need to point out that Lear's poem was "untrue."
Shelley's poem is sentimental in attempting to call out a truth.
Lear's poem is sentimental in murmuring a lie.
Both are beautiful poems.
Most would assume Lear's poem is highly sentimental, and that Shelley's poem is not sentimental at all.
Anger is never considered sentimental, and Shelley is angry.
Lear is certainly not angry.
The softer emotions are considered sentimental.
But anger is sentimental.
Shelley wins.
A stunning upset!