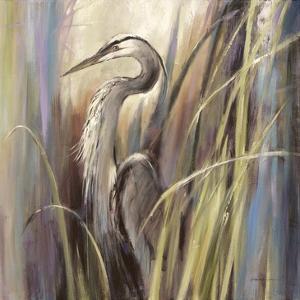 A painting can evoke a thousand poems. A line of poetry can evoke a painting.
Ann Leshy Wood, the second seed in the Beautiful Bracket, demonstrates this:
"where groves of oranges rot,/and somber groups of heron graze/by the bay."
Ravi Shankar "What matters cannot remain."
It is a lot to ask a poem to perform as part of itself. This is, of course, impossible, but competition of every kind is fraught with the same doubt.
As soon as we block off time, artificiality reigns, and all of us, in competition or not, are stuck forever in these tyrannies which either we, or time itself, makes. The natural deadlines wound as much as deadlines artificial and planned: every poem, every judgment, every look, every affectionate effort must end. Ann Wood's herons will be called away from the bay. Ravi Shankar's line will look for support before and after, in vain. These will not remain. But the oranges will rot forever. Rot is forever. Some things will remain.
A strange scent, of oranges, fills the arena.
Ann Leshy Wood wins.
****
Medha Singh brings a stunning line to the competition:
"you've remembered how the winter went/as it went on"
The insouciance and naturalness of the line nonetheless carries with it a rhythm the rhyming Romantic poets—even the best of them—would admire. This is the future of poetry, right here; it is natural speech which a Wordsworth or a Williams would cry out for, yet has a music a Yeats or Poe would envy. The fans of Medha Singh make a great, confident noise in the arena; they know she will be nearly impossible to beat, even though the Beautiful Bracket is full of great poets and lines.
Her opponent is a magnificent mind and poet, Philip Nikolayev, so Medha's fans feel that stirring of anxiety fans feel before the starting whistle, even as they clamor and laugh in their boisterous exuberance. A certain quiet invades their numbers as they glance nervously at this:
"within its vast domain confined"
Truly we are confined. The sights and smells of the arena keep us here. Here there is no transcendence. Our fellow fans cannot help us. We are alone. We love being part of the friendly crowd, part of a vast domain confined, but we know at any moment we can be led away to ourselves, where doubts cry in us, alone. The arena becomes silent; every ceremony accounts, in a strange moment, for the individual in us all. Like syllables stepping through a line of verse, every member of the crowd reads:
"you've remembered how the winter went/as it went on"
We rise, stunned, from our seats. Programs and tickets flutter to the floor. Are we no longer confined? Outside, winter waits.
Medha Singh has won.