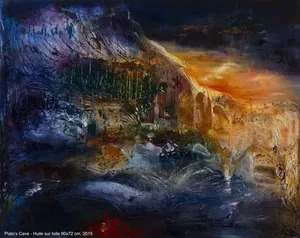 Ben Franklin's Boston Secrets are winning in a way common throughout history.
The theory is this.
Play .500 ball—win half your games.
Then add one thing.
The 20 game winner.
You take an ordinary, 70-70 club, add a 20-5 pitcher, and now you have a 90-75 pennant winner.
The Secrets are not scoring that many runs.  Their ace, Edgar Poe, is 3-4.  Francis Scott Key is 2-5 in relief.
Enter Plato.  He's 8-3 with a 1.90 ERA
George Washington, the Secrets manager: "The best things take a long time. Plato's fruition took a long time. Certainly it could not have come at a better moment. Plato is making this forever. Everybody, and of course, everyone on the team, is very happy."
Here is a lesson for the haves and the have-nots.
A 10-10 pitcher can be exchanged for another one, ad infinitum. A 10-10 pitcher can strike people out and practices long and hard to become a 10-10 pitcher, or even a hurler with an 8-12 record.
The 20-5 ace will always be paid in the top one percent while he's good—fair or not.
The 20-5 pitcher has a bit more command, or throws the ball one inch faster.  It doesn't matter how that slightly better ability exists.
A 20-5 pitcher is worth more than all the 10-10 pitchers in the world.
The Secrets are in first place by 5 games in the Society Division.
Harvey Weinstein's Actors, at .500 with a 24-24 record, are in second place. Thomas Nashe, the Elizabethan, a brilliant, slightly erotic, brawler of plays and pamphlets, leads the team with 12 homers. Byron, who leads all pitchers with 4 shutouts, is their best pitcher (6-3, 3.05 ERA). Only slightly behind Byron for the Actors is Chaucer, at 5-3, a 3.11 ERA and three shutouts!
J.P. Morgan's The War and P.T. Barnum's the Animals are tied for third, only a game behind the Actors. Seamus Heaney of the Animals leads the club with 8 homers, but the team, as a whole, is not hitting (Wallace Stevens, the clean-up hitter, only has 5 homers.) Ovid has been disappointing as the Animals no. 1 starter at 3-5, but he does have 2 shutouts. Amy Lowell has emerged as the ace of the Animals—-she is 7-1 with a 2.44 ERA and a shutout.  Jules Verne of the Animals has won 6, and Shirley Jackson (4-1) keeps winning in relief for P.T. Barnum's club.
The War's starting four should scare anybody: Shakespeare (5-4, 4.40 ERA), Walter Scott (6-2, 2.52 ERA), Erich Remarque (6-4, 3.55 ERA), David Hume (4-6, 4.70 ERA). Stephen Crane of the War leads the division with 13 home runs, and Harry Crosby has surprised a few, adding 6 homers and a couple of game-winning hits.
David Lynch's Strangers are in last. Rimbaud (11), Rabelais (7) and Roethke (7), the "Three Rs," have slammed 25 homers between them, Mary Shelley and Fernando Pessoa have been getting on base, but the bottom of the order, Verlaine, Kees, and Riding, have not hit a lick. The Animals are averaging barely 3 runs a game. H.P. Lovecraft, 4-1 in relief, has helped the Strangers win some close games. Alexander Pope, their ace, has 5 wins and 2 shutouts, but recently lost 4 straight. Camus has won only 2, pitching well with terrible run support. Nietzsche began the year with his only shutout, then went 1-4 in 8 starts, but has won his last 3 outings.  Samuel Becket (3-6) has pitched much better than his record and got his first shutout of the season in his last start, blanking the Animals 5-0. Bram Stoker, the Strangers' manager said in measured tones: "I believe in this team. There are still a lot of games to play."
The Secrets Ben Franklin 29-19
The Actors Harvey Weinstein 24-24
The War J.P. Morgan 23-25
The Animals P.T. Barnum 23-25
The Strangers David Lynch 21-27
WINS
Plato, Secrets 8-3
Amy Lowell, Animals 7-1
Walter Scott, War 6-2
Byron, Actors 6-3
Remarque, War 6-4
Verne, Animals 6-5
Pushkin, Secrets 5-1
Chaucer, Actors 5-3
Pope, Strangers 5-4
Nietzsche, Strangers 5-4
Shakespeare, War 5-4
Petronius, Actors 4-3
Hume, War 4-6
Relief
Lovecraft, Strangers 4-1
Shirley Jackson, Animals 4-1
James Monroe, Secrets 3-1
Thomas Jefferson, Secrets 3-1
Sade, Actors 3-3
HOMERS
Stephen Crane, War 13
Thomas Nashe, Actors 12
Rimbaud, Strangers 11
Emily Dickinson, Secrets 10
Seamus Heaney, Animals 8
Robert Frost, Secrets 7
Rabelais, Strangers 7
Roethke, Strangers 7
Woody Guthrie, Secrets 6
Harry Crosby, War 6
Hafiz, Actors 6