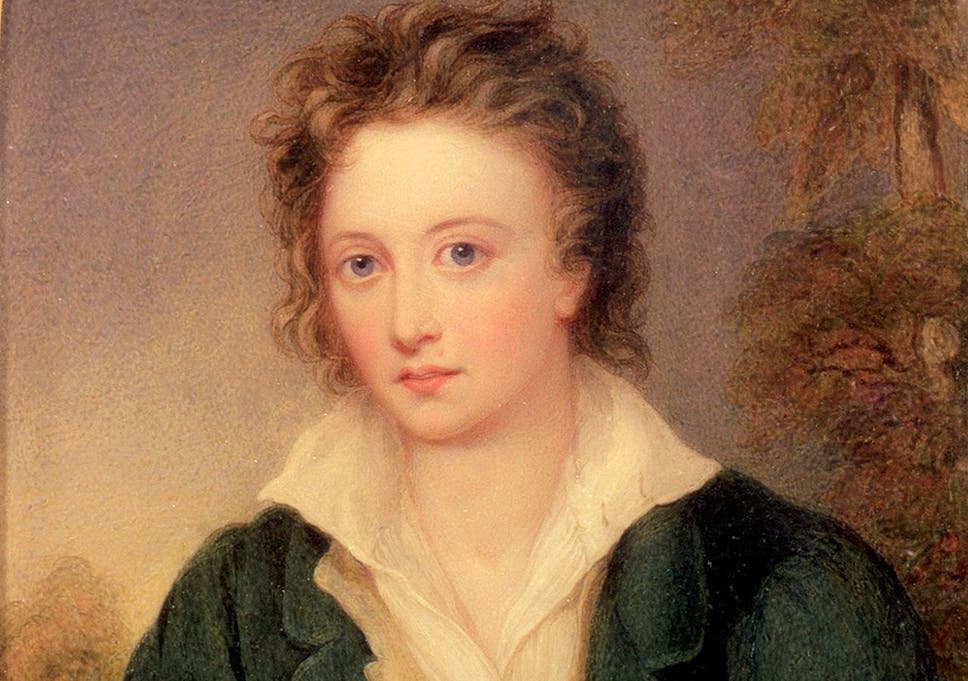 Shelley (9-5) pitches for the Florence Banners—the team to beat in the Glorious Division.
The Florence Banners are the glory of the Glorious Division. Look at their pitching staff: Dante, who throws fastballs with such ferocity, hitters are afraid to stand in against him; Shelley, who throws curve after delicate curve, as memorizing as a snake; Virgil, whose hard slider apparently comes from the underworld; Leonardo da Vinci, the lefty, whose mixture of speeds defies belief; and Boccaccio, who comes out of the bullpen like a cloud, a large dark one, which puts an end to everything. And everywhere you look, there is a Rossetti: Christina, William, Dante Gabriel, and in the middle of the lineup, John Keats, almost more Italian than English. And two modern spots of light: Ben Mazer and Glyn Maxwell.
But Keats only has four home runs for de Medici's Banners—who are 35 and 29 and share first place with two other teams.
The Carriages of London, owned by Queen Victoria, are 35-29, and not exactly filled with the greatest of all time: pitchers William Hazlitt, Virginia Woolf, and Charles Lamb.  Hitters Elizabeth Barrett, Sylvia Plath and Paul McCartney.
Neither do the Dublin Laureates seem that scary. The rather pedantic Edmund Burke is 0-6 in his last 7 starts for Dublin. Their no. 2 starter, Thomas Peacock, has been replaced by Robert Louis Stevenson.  Their lineup features JK Rowling, Boris Pasternak and Oliver Goldsmith. But they, too, are 35 and 29.
The Laureates have won a host of one-run games, especially in the late innings—they get better as the game goes on, and don't make mistakes in the field or on the base paths. Jonathan Swift joined the Laureates on May 1st, and with his command of 4 pitches and quiet confidence, now owns the best record in the league: 10-1. And don't forget Livy. He is 8-1 in relief.
Andrew Marvell, the ace of the Carriages, is 10-2.  Charlotte Bronte is 3-1 and Charles Lamb is 3-0, in relief.  On the back of Marvell, the Carriages are doing the little things to win.  Virginia Woolf out-pitched John Stewart Mill in a marvelous 1-0 outing, helped by a bases-loaded, game-saving catch by Philip Larkin in right field. Tennyson's two out, opposite field, looping, single off an impossible-to-hit-pitch brought in Paul McCartney, who had walked, and then was bunted over to second by Larkin, for the game-winner.
As for the other first place team, those awesome Banners, Virgil, 7-4, has arm tenderness, and will miss 3-4 weeks, Dante is only 6-6, and Boccaccio has been out-dueled a number of times in relief. Shelley has been a monster, logging 9 wins.
Tied for last are the Berlin Pistols—featuring Ezra Pound (demoted to the bullpen), pitching ace T.S. Eliot, and Ted Hughes (13 homers)—and the Devon Sun at 28-36.  Ralph Emerson is 4-3 in his last 8 starts for the Sun, and Lord Russell's team has been powered by Wordsworth's 9 homers in the Sun's last 20 games.
William James has been the best starter for the Pistols at 8-4. T.S. Eliot beat Dante and the Banners 1-0, this week, tossing a one-hitter. The Banners are no longer alone in first, but every team in the Glorious Division will be gunning for them.
We caught up with Paul McCartney, shortstop and lead off hitter for the Carriages, after Andrew Marvell shut out the Sun in Devon.
Scarriet: Welcome to my interview, Paul.
Paul: Oh that sounds…ominous.
Scarriet: This won't hurt a bit. I promise. Your team's playing well, you won by a shutout today.
Paul: Oh Andrew Marvell, luv watching him pitch, you know? I have to remember I'm in the field playing the game, because, you know, you get mesmerized, kind of, watching him, do his thing… He's so good!
Scarriet: Do you see John and George much?
Paul: Not really. They're both in the what's it called…the Peoples Division, right? Yeah George is with the Cobras in India…and John, with Yoko, is with the uh….Mist. They're together, that's nice. I chat with George…and John… on the phone, sometimes, you know, just say hello…
Scarriet: I did want to touch on the two English teams, the comparisons people have made between the Sun and the Carriages. You've heard the talk?
Paul: Oh yeah, when they were first getting this thing together, John told me, "Don't play for the Sun, man! You belong on the Carriages."
Scarriet: The Sun have a reputation for being that part of England that wants to rule the world, the British Empire, oppressing everyone…people compare the Sun to the Pistols…while the Carriages..
Paul: —are more like tea and biscuits and…mum. Yeah.  I mean, look, someone said Wordsworth—and Waldo Emerson, you know, they're nice, and they play for the Sun, but those guys are bastards! (laughing)
Scarriet: Wordsworth did take someone out at second with a nasty slide last week, did you see that?  And Emerson throws at hitters quite a lot.
Paul: Oh I could never write like them! They're great.  But, there's not a lot of comfortable, human stuff in their writings, really…look at "English Traits" by Emerson…the English race and how it rules the world!  John tipped me off on that one, Emerson, watch out for that cat…and I dunno, what can you say against Wordsworth?  Daffodils. I love that one. I never could read the long stuff, though…he's not one I could have a pint with…too stuffy for my taste…
Scarriet: What's the biggest difference between the Scarriet Poetry Baseball League and rock music?
Paul: Drugs. (laughing)  There's no drugs in Scarriet Poetry Baseball. Queen Victoria would never… Seriously, you really have to be in top form all the time to compete with these great writers…everything is on the line all the time…big crowds…you can't slip up….
Scarriet: Does that bother you?
Paul: (nervous laughter) Not really. No, I quite enjoy it, actually. I never depended on drugs to write my songs. It's just a matter of freedom and relaxation sometimes, you know, I'm not advocating anything, except a little freedom, and I understand everything has a time and a place. It's all good, really. I'm enjoying myself doing this.
Scarriet: You've played well—even hitting home runs from the lead off spot, and the Carriages are tied for first. Congratulations.
Paul: Thanks. Yes. Batting first is not easy. The first time up, especially. But I use it to judge how the pitcher is doing that day, and I'll tell my teammates—"watch out guys, he's throwing hard today, or…this is what his strategy seems to be…"
Scarriet: Communication.  Yes, and you steal bases… I don't think anyone realized how athletic you are…
Paul: Music is very physical. People don't realize that.  And poetry, or music…you don't just write it with your mind… the body is the mind…it's a lot of it, really…but uh…yeah…I enjoy it…the fresh air…the competition…the company is nice…
Scarriet: We're so glad you could talk to us, Paul. And we're happy to hear Scarriet Poetry Baseball agrees with you!
Paul: Thanks.
Scarriet: Good luck the rest of the year!
Paul: You, too.  Bye now.